Our Stakeholder Engagement Team has been running events for schools, young people's groups and other community groups.
Below we list some of our public events, including our final online event. We hope to see you there.
ECHOES Project: Results and Reflections – Online Event
Join the ECHOES Project team for the final wrap-up event to hear about the project's research activities, results and reflections.
8th June 2023, 10.30am – 12.30pm
ECHOES Project Closure Conference
ECHOES is a 3.5 year project seeking to understand the effect of climate change on bird habitats around the Irish Sea. The project is focused on two wetland species: the Curlew and Greenland White-fronted Goose.
9th March 2023
Join us in person for the ECHOES Project Closure Conference in Aberystwyth, Wales. We will be presenting research results from the ECHOES Project, and showcasing the ECHOES Platform.
Webinar – An Introduction to the ECHOES Platform: Tools for Land Managers and Policy Makers
Are you a land manager or policy maker? Discover how the ECHOES Platform can help you to visualise changes to your site in the context of climate change, and to plan mitigating actions.
30th November 2022
Join Compass Informatics for a live demonstration of the ECHOES Platform.
Project Showcase at Wexford County Council
Discover the work ECHOES is doing in and around Wexford on Europe Day
9th May 2022
To mark Europe Day 2022, we join other projects funded by the Interreg programme. Learn more about web tools designed to support land managers and policy makers, and meet members of our team.

Walk & Talk with ECHOES at Blackrock Estuary, Cork
Join researchers from University College Cork for a guided Spring walk
5th March 2022
The ECHOES project is partnering with Cork Nature Network for a Walk & Talk around Blackrock Estuary. Join researchers from University College Cork for a guided walk, taking in the seabirds and learning more about the Curlew, Greenland White-fronted Goose and the projected effects of climate change on coastal birds.

Talk at Dyfi Wildlife Centre
Join Dr Peter Dennis from Aberystwyth University to find out more about the research ECHOES is carrying out in the Dyfi Estuary – one of the project's main study sites.
17th November 2021
The ECHOES project is investigating the behaviour of Curlew and Greenland White-fronted Geese that winter in the Dyfi Estuary. Learn more about their diets, habitat preferences and movements around the Dyfi at this evening talk at Dyfi Wildlife Centre. Tickets can be purchased on the night, and refreshments will be available.
Singing to the birds
An evening of science, gypsy jazz, folk music and poetry!
15th Sept 2021
The ECHOES project and Celtic Neighbours have come together to host a community event for the whole family. Indulge in a delicious menu provided by Tŷ Cemaes, while enjoying folk music, gypsy jazz and new poetry, in Welsh and Irish, built around the themes of climate change and threatened species. You will also get a chance to learn about the birdlife in the Dyfi Estuary.
World Curlew Day Webinar
21st April 2021
To celebrate World Curlew Day, we will present you with our latest curlew research – from behaviours in the field to habitat mapping from space!

There will be a LIVE Q&A, wonderful music and we will be announcing the winners of our Draw a Curlew Competition!
Draw a Curlew Competition
Closing date 18th April 2021
Running up to World Curlew Day, we are launching a drawing competition!

To raise awareness of the red-listed Curlew – one of the birds studied in the ECHOES project – we would like to challenge children along the Irish Sea coast to send us a drawing of a Curlew! The winners will receive 20 gift cards printed with their Curlew drawing.
ECHOES Launch
23rd July 2020
Hear about the ECHOES project and from guest speakers on our precious natural resources, the impacts of climate change along the Irish Sea and collaboration opportunities to manage the challenges we face.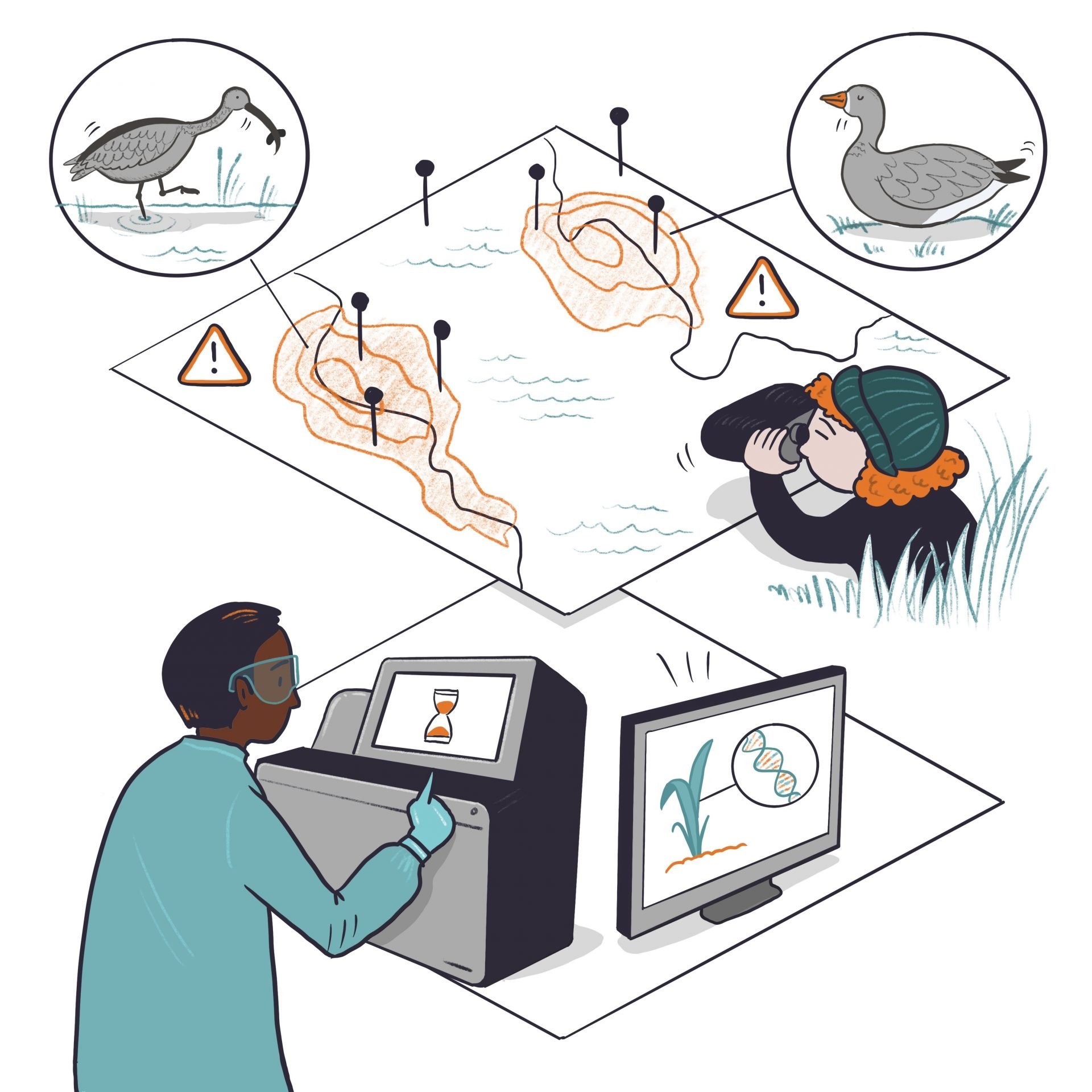 ECHOES Project Closure Conference
You can now register for our Closure Event in Aberystwyth. Join us to learn all about our research, tools, resources & methodologies we have developed in the project.